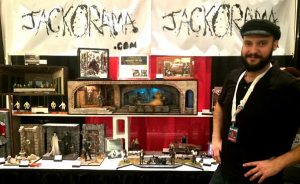 Greetings! I'm Jack Venturo
Welcome to
Jackorama.com
I love seeing people sticking their faces inside a diorama and traveling to a new world!
---
I am an award winning filmmaker who loves to watch, discuss and write movies.
I paint and sketch, build dioramas using action figures as well as customize toys and make sculptures
I love grilling, hiking, adventuring, and quiet time.
I cook. I date my wife. I play, sing and dance with my five daughters.
I have long conversations with my puppet and roll on the floor with my cat and dog.
I love food, tea, coffee, cigars, pipes, wine and spirits and I am a master at playing checkers.
---
Upcoming Show
 – DesignerCon –
Pasadena, CA – November, 19-20, 2016
---
Supporters | Contributors | Donators & Awesome Folks!
Got some toys you want to donate? get your name on this list!
– 3D Retro
– Jim Formanek
– George Gaspar
– Alfredo J. Delgado
– The Monheits
---